Exploring Etihad's Terminal 3 at Abu Dhabi : AirlineReporter
Exploring Etihad's Terminal 3 at Abu Dhabi : AirlineReporter
A few months ago I wrote about a flight in Etihad's 787 business class. Later in the trip, during a long connection, I got to explore the highlights of the airline's hub in Abu Dhabi.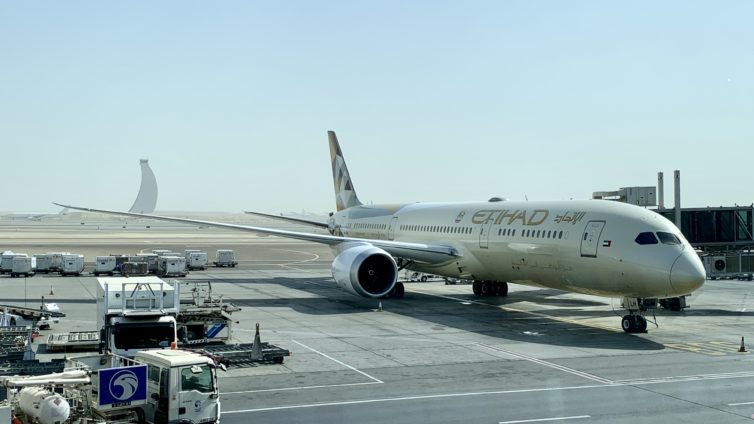 Those highlights included a free hotel program for long layovers and a unique US immigration pre-clearance facility. The pièce de résistance was a morning visit to the incredible first class lounge, with a gourmet breakfast, great views of the ramp, and even a cigar bar.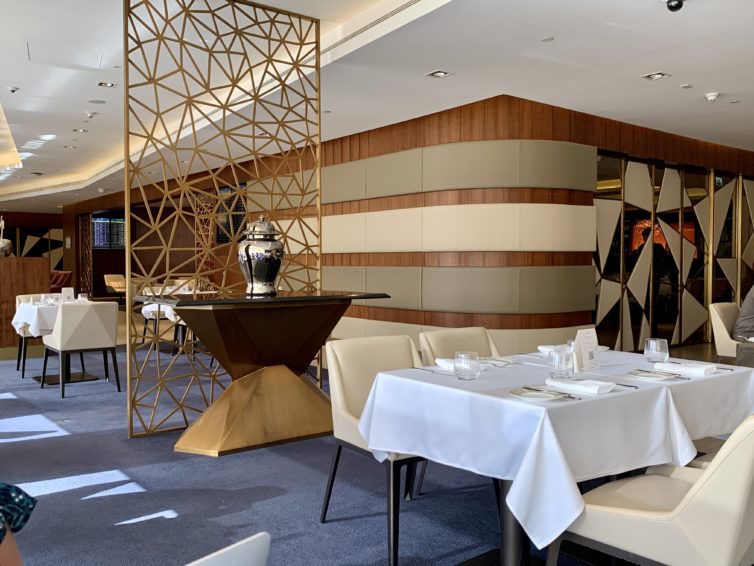 Read on for a walkthrough of Etihad's Abu Dhabi hub, and for tips on how to take advantage if you pass through the airport yourself.
A few years ago, Abu Dhabi broke ground on a new midfield terminal, but delays and drama pushed the opening date back many times. Apparently it's mostly finished, but the opening date is still a mystery. For now, Etihad's long-haul operations are based in Terminal 3. The terminal doesn't feel that old, but it's older than most of the other Middle Eastern mega-hubs, and a bit small for Etihad's current operations. As a result, some flights leave from remote stands.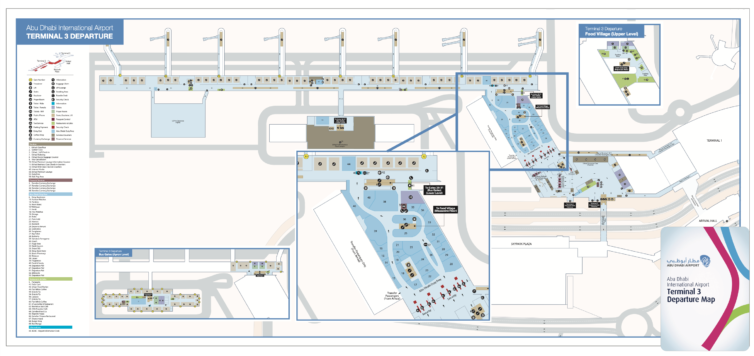 I arrived at one of those remote stands on my inbound flight, to kick off a twelve-hour layover. Honestly, as an AvGeek I love rolling up at a remote stand for the chance to get up close and personal with the planes. And there was indeed some great close-up plane-spotting while riding the bus to the terminal.
Sleeping Over in Abu Dhabi
Etihad offers a full spectrum of free or discounted stopover options, depending on the length of your layover (minimum, but reasonable fare requirements apply):
"Best of Abu Dhabi" – If you have up to four nights to kill, you can book 4- or 5-star hotels at a discount of up to 40 percent.
"Stopover on Us" – For shorter stays, you can stay for free at certain 3- and 4-star hotels in the city for up to two nights.
"Transit Connect" – For the shortest stopovers — 10 to 24 hours — the airline offers complimentary hotel accommodations for travelers in all cabin classes, as long as you book at least five days prior to your arrival (there are some other restrictions, so definitely read the fine print). Some of the options are in the city, but probably the most popular option is the Premier Inn hotel connected directly to the terminal. The hotel is landside but UAE immigration is speedy.
The Premier Inn rooms were simple but very clean. Mostly it was nice to have a free option to spare me a night in the terminal, and the front desk staff knows to keep check-in and check-out speedy for travelers on the go.
The Etihad First Class Lounge
Without a doubt, the best part of my Abu Dhabi stopover was a morning in the airline's impressive First Class Lounge. Premium cabin passengers get their own terminal entrance.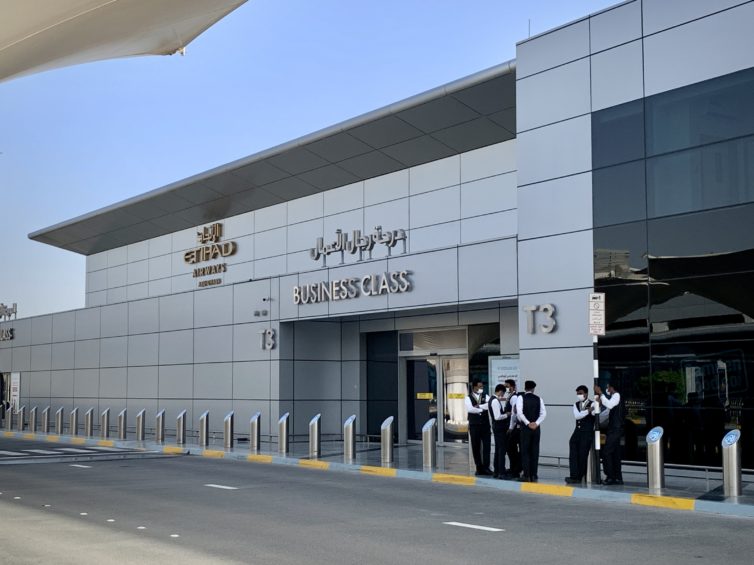 The entrance to the First Class Lounge is just past the Terminal 3 security checkpoint.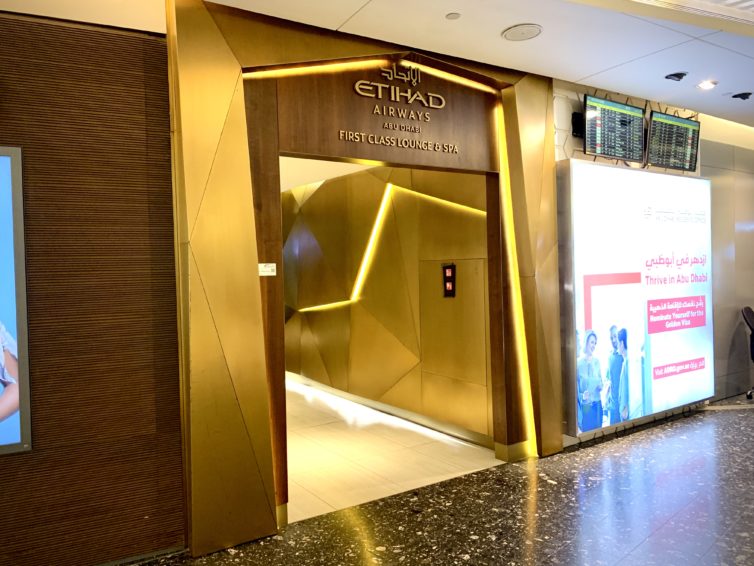 The lounge is one level up from the main concourse. Coming out of the elevator, the entrance sets the right tone for a first class space.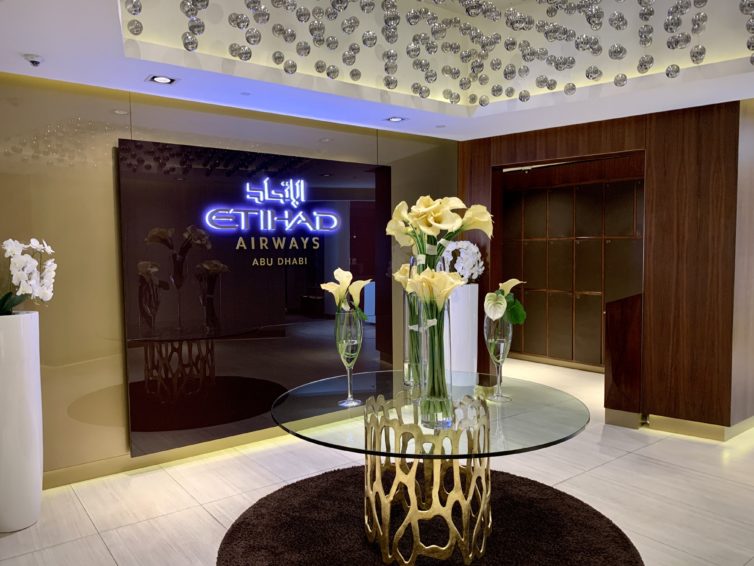 I passed by a attractive bar on the way into the heart of the lounge.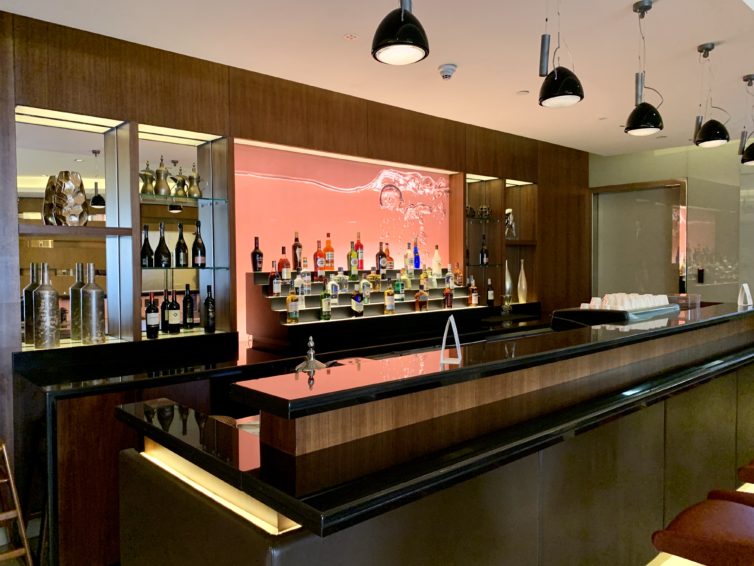 Across from that bar is the main dining area. As you'd expect, it's full formal service at your table.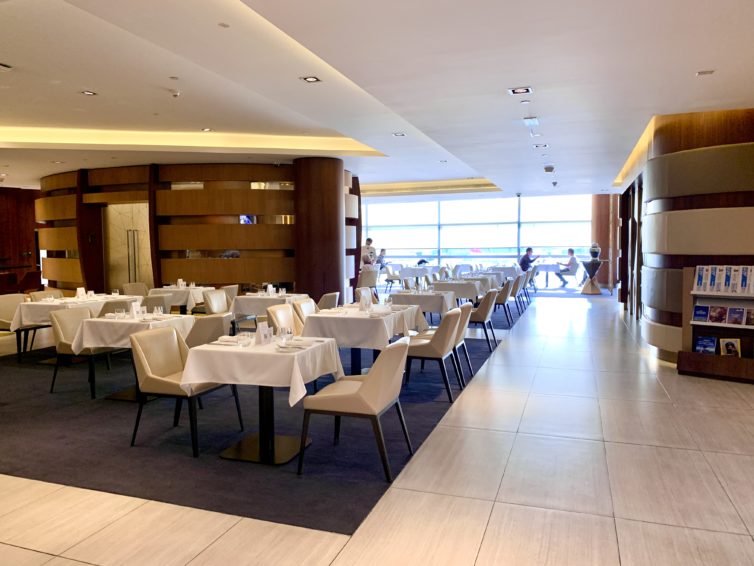 On the far end of the restaurant is the signature Etihad lounge bar. The unique geometric pattern of the backdrop shelves is gorgeous. In the past, we've appreciated similar designs at Etihad lounges at LAX and JFK, though the airline has closed a lot of its lounges since we wrote those stories.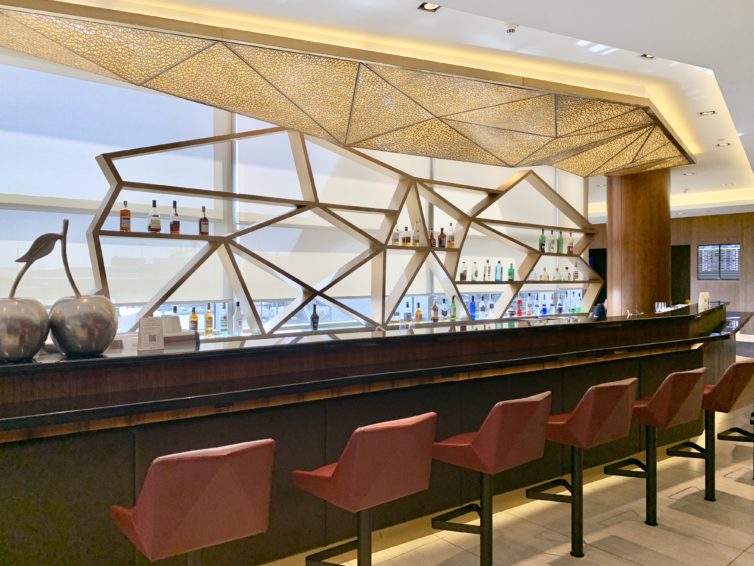 Planespotters rejoice! There are great airfield views from this part of the lounge. You can clearly see the main runways, and you get a view across to Terminal 1.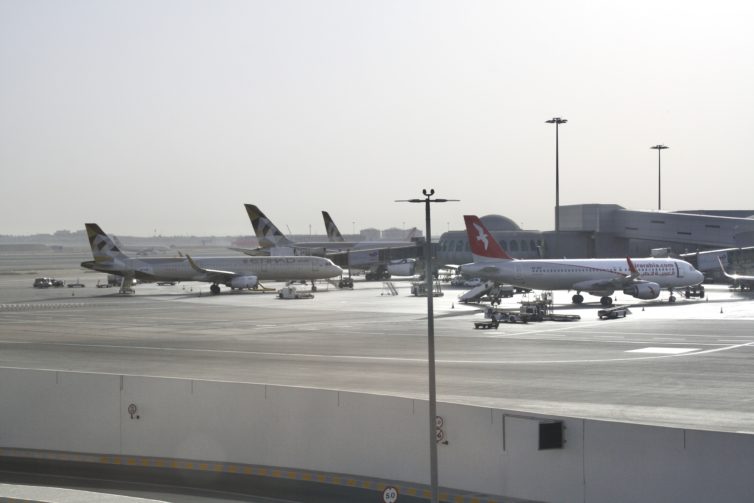 Here's a look at the extensive menu: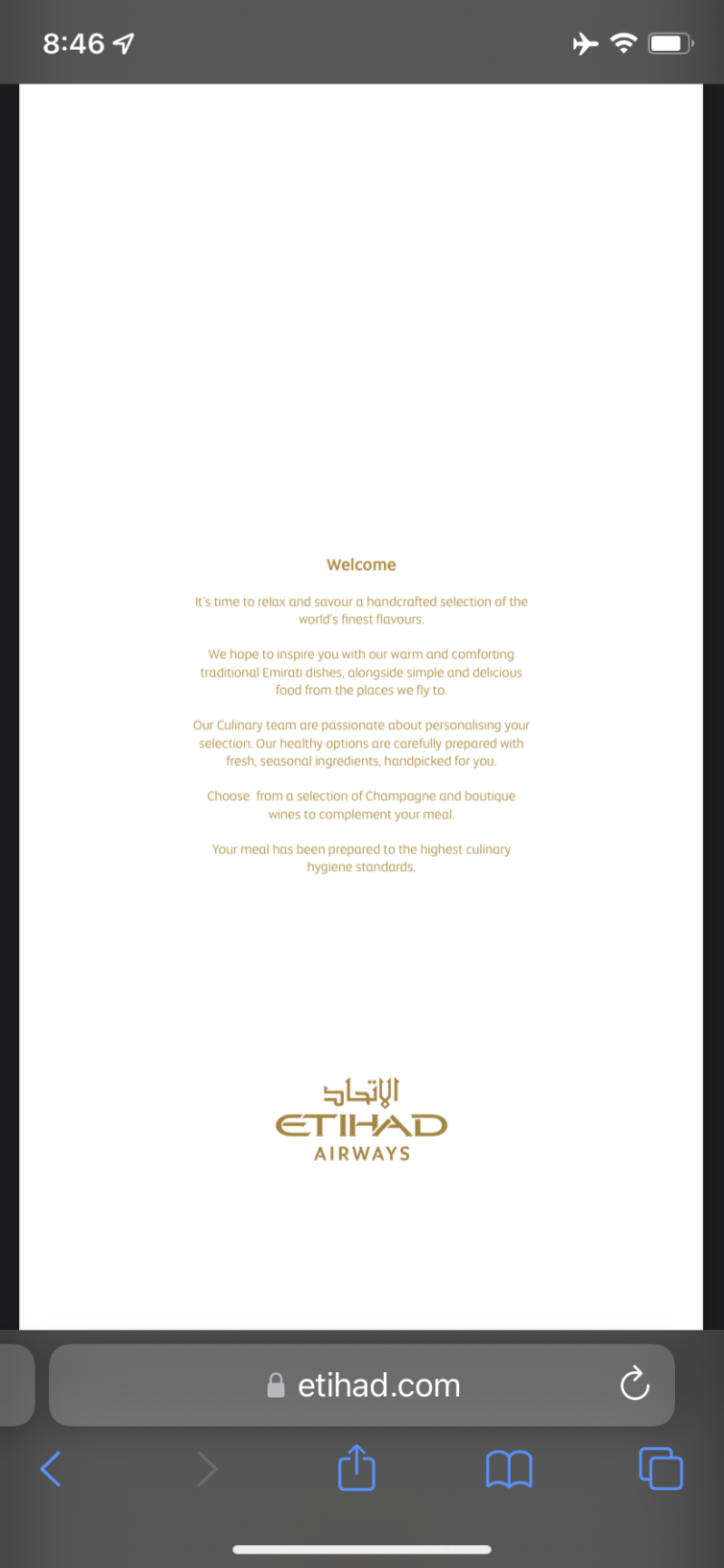 The breakfast spread I tried was flat-out amazing.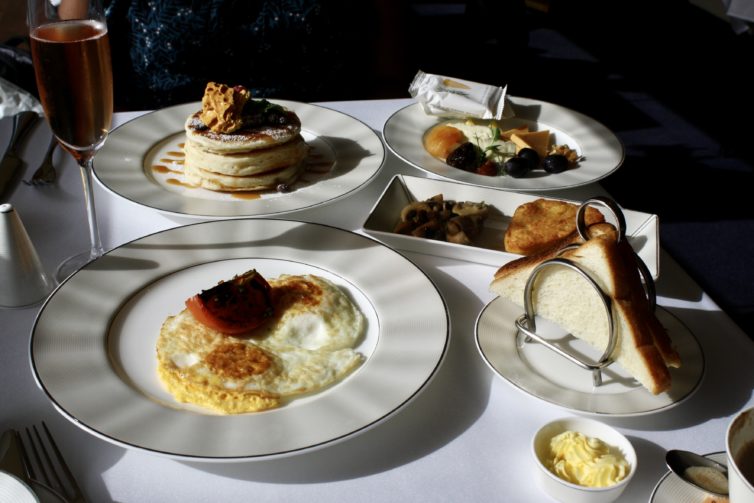 Etihad's lounge offers some unique features – starting with the legit cigar and whiskey bar.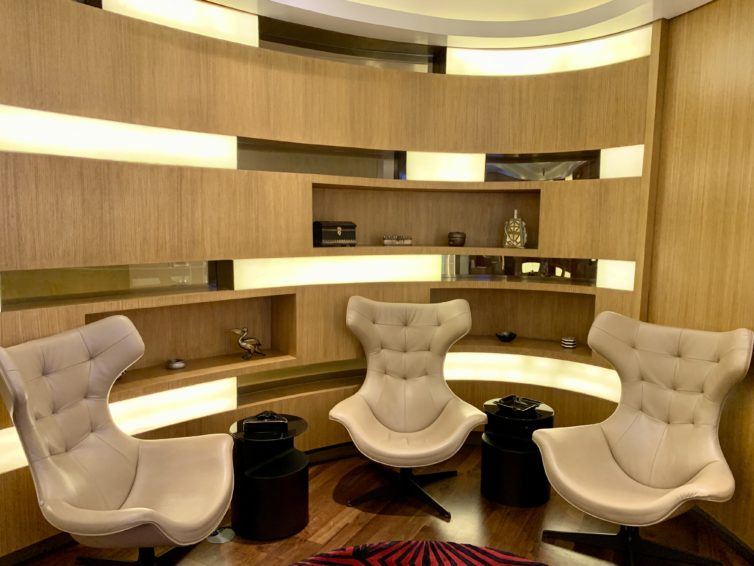 Sure, it's almost a caricature of what you'd expect in a first class airline lounge. But isn't that sort of the point?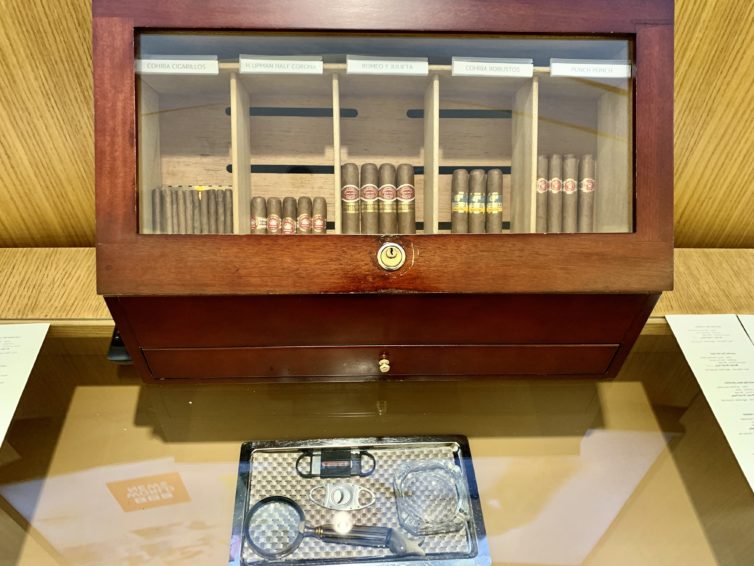 There's a menu to suggest whiskey, coffee, and tea pairings for each cigar.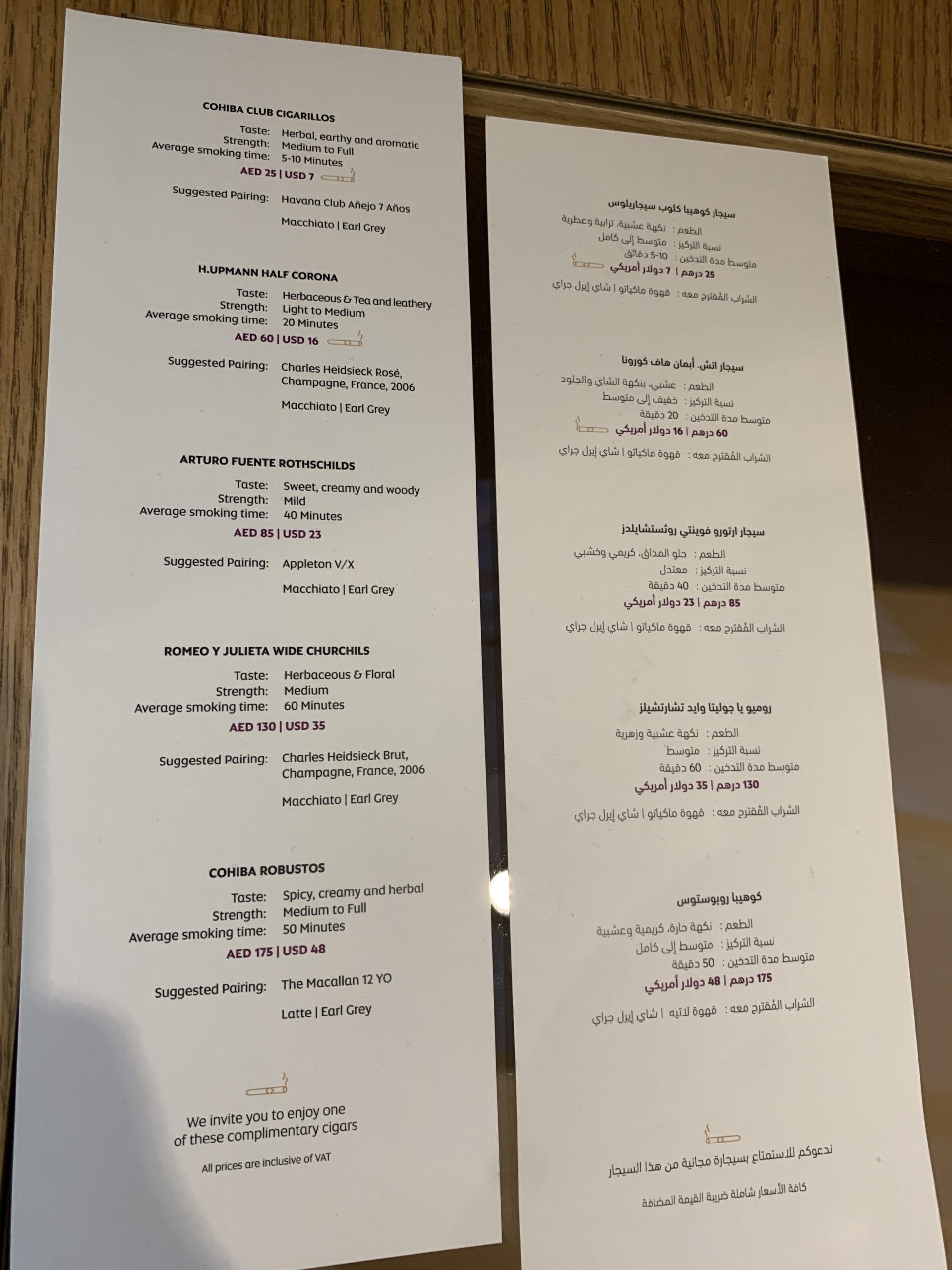 Even though I'm not a cigar guy, personally, I did love the vibes.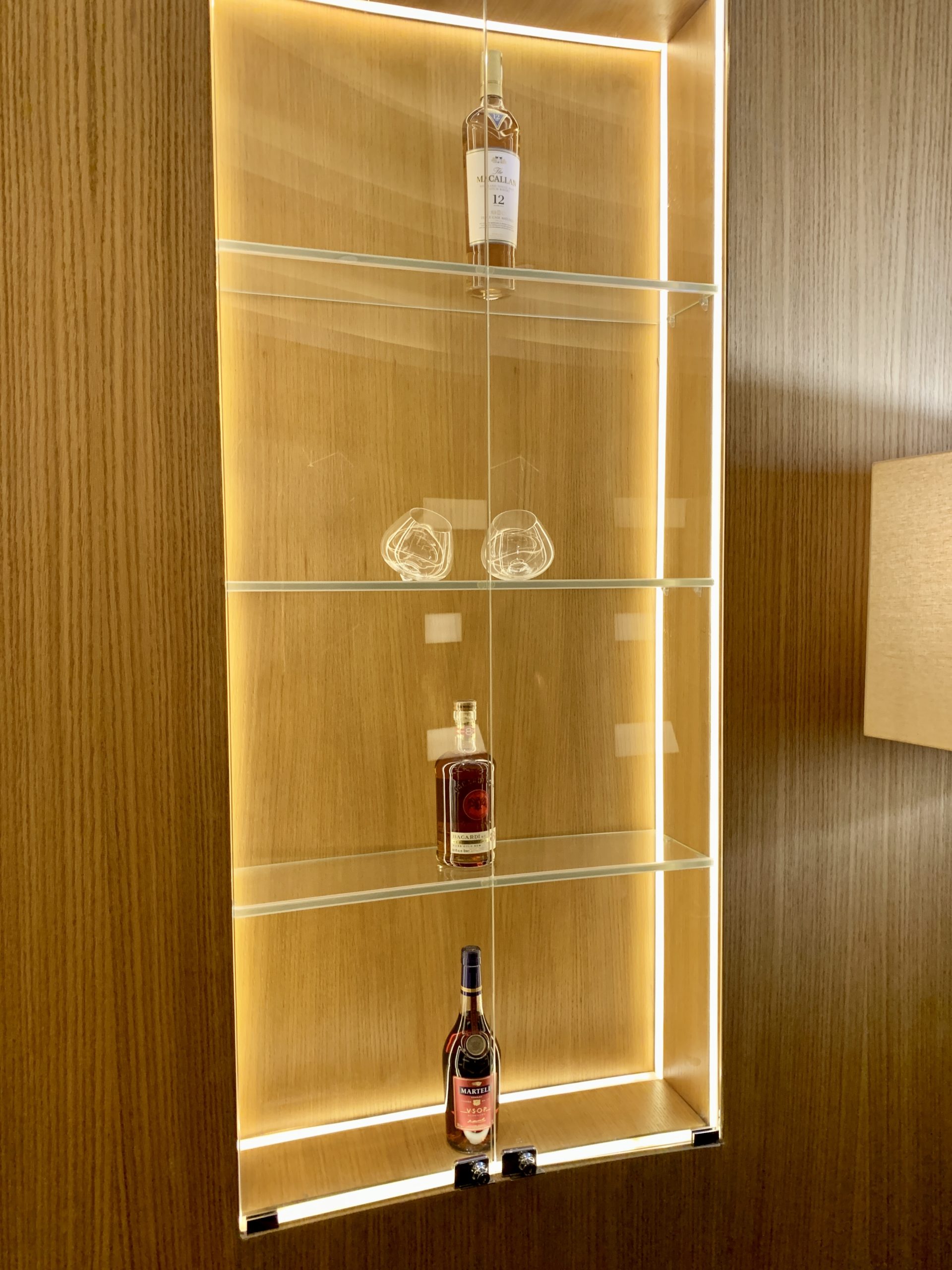 Nearby there's a display highlighting Etihad's partnership with Breitling.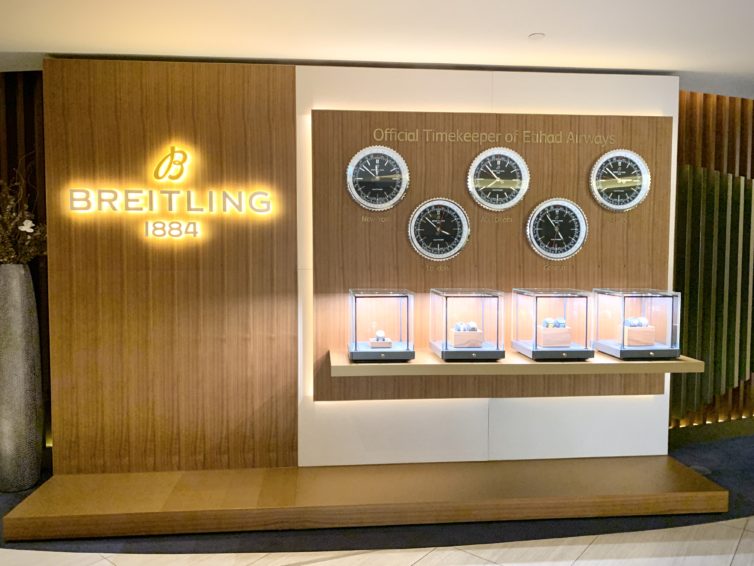 Down the hall I explored a few other corners of the lounge.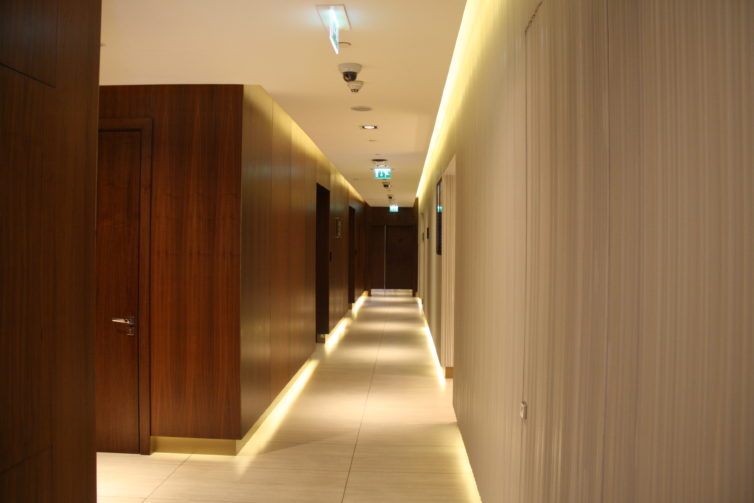 Nobody was using the gym when I dropped by, but there were weights and a few cardio options.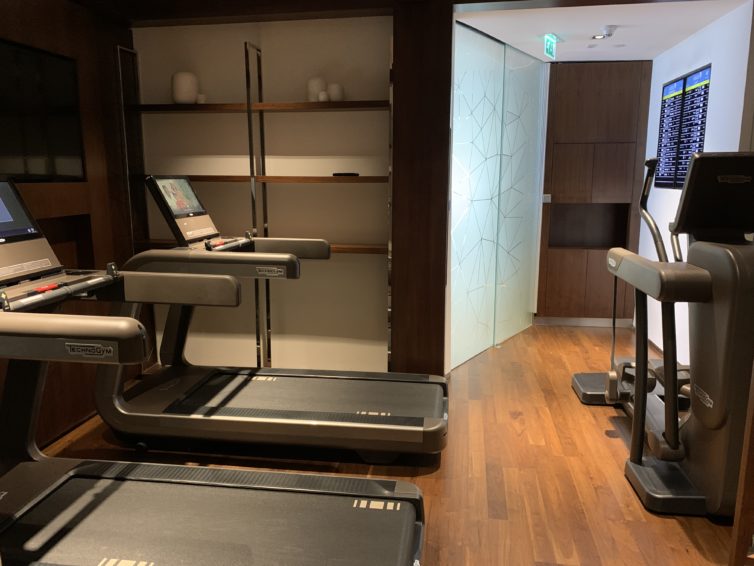 If you need a place to park kids, they have you covered. Shout out to you O.G. Scooby-Doo fans out there (Editor's note – my kids, and yours, dear reader, likely have no idea who those folks are).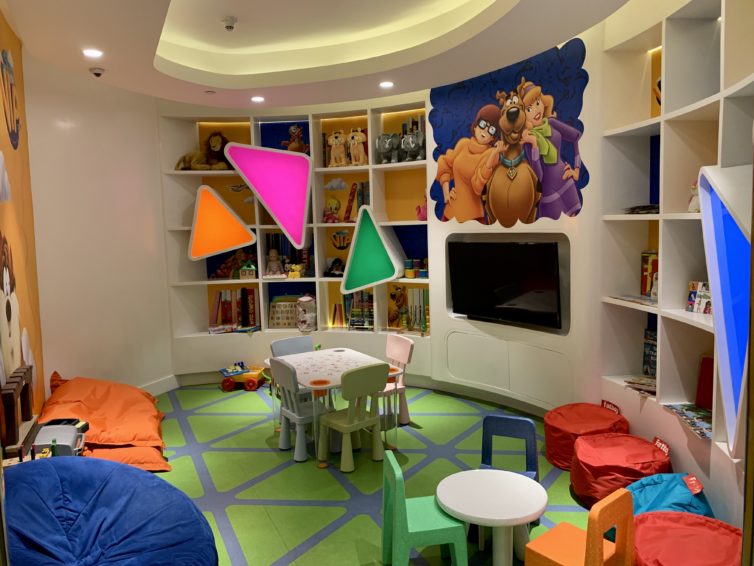 The shower rooms were gorgeous.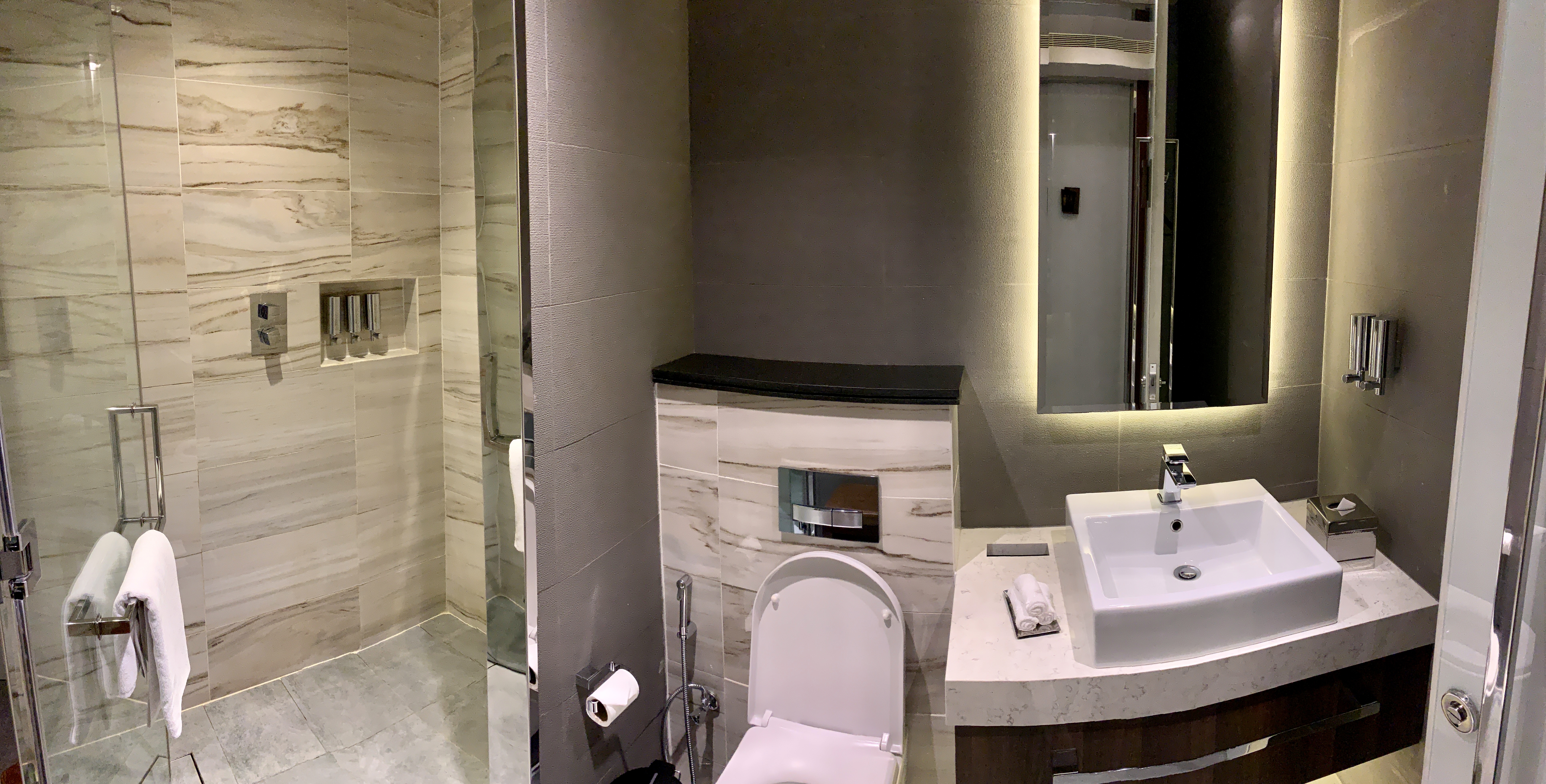 All in all it's a stylish and well-equipped lounge, covering everything you'd expect out of a first-class ground experience.
Crossing the Border Before Taking Off
Maybe the most useful benefit of the ground experience at Abu Dhabi is the U.S. Customs Pre-clearance facility. Worldwide, there are only a couple of these facilities, especially beyond common American tourist spots like Mexico and the Caribbean. The idea is that you clear U.S. immigration and customs before the flight leaves, so you can deplane in the U.S. just like you would from a domestic flight — and save a bunch of time in the process. Etihad and the airport are clearly proud of this feature.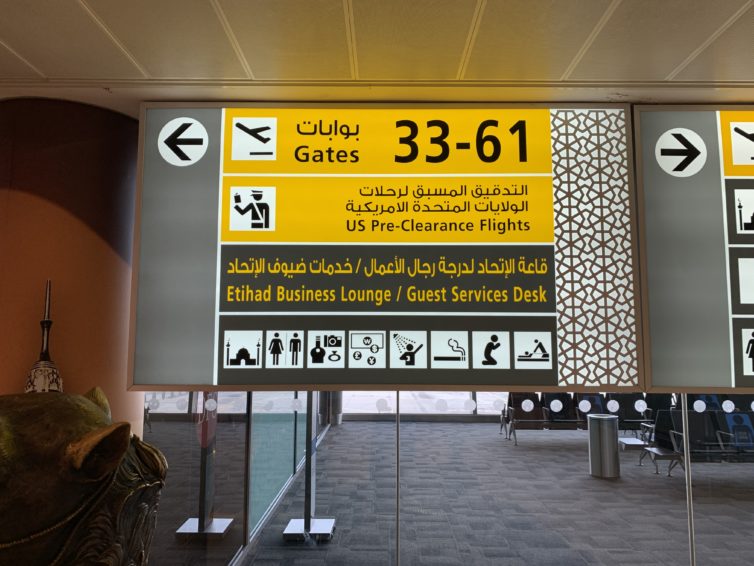 I didn't take pictures of the checkpoint itself because there were a zillion signs forbidding photography, and a U.S. military prison didn't seem like the best place to end my vacation. The checkpoint was at least as fast as most immigration checkpoints stateside, and there was even a premium cabin lounge after the checkpoint so you don't feel you have to cut it close if you're flying first or business.
So how does Etihad's ground game stack up overall? The accommodation options for short stopovers and longer layovers are excellent, taking the pain out of long connections. Immigration and customs pre-clearance is a unique and useful advantage. And, of course, the first class lounge was excellent.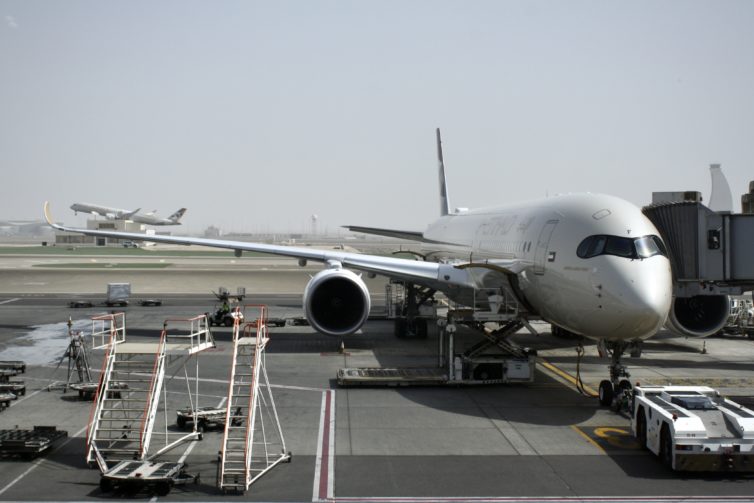 It's worth mentioning that in its current form, the business class lounge is huge but the amenities and food aren't particularly memorable. We're curious to see if Etihad updates any of those amenities as part of their ongoing "Constellation Collection" project to invest in their soft product. And that new midfield terminal can't open too soon, to give Etihad more space for its operations.
Note: We arranged our own business class itinerary for this trip. We reached out to the airline prior to arriving in Abu Dhabi and they offered us access to the first class lounge for this story. All opinions are our own.